SPIELGABEN COMPLETE LEARNING SYSTEM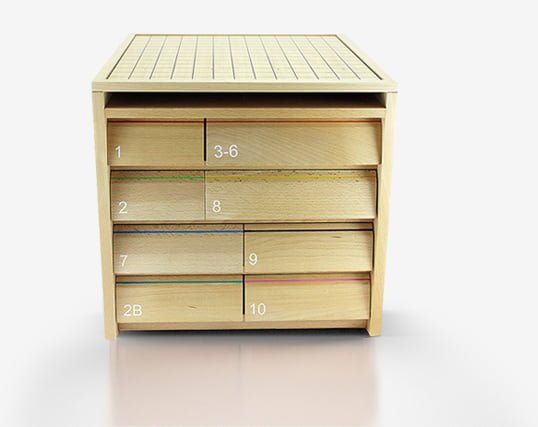 COMPLETE PACKAGE
What's Included:
14 sequential Spielgaben sets made of environmentally sustainable and non-toxic child friendly materials.
Solid wooden storage drawers with 8 individual storage containers, which store all of the 14 sets neatly and efficiently.
Wooden Play board as well as Double-Sided Non-Toxic plastic play board.
Learning Resources: there are curriculum based learning resources that will help you to incorporate play based learning into everyday play and learning time. You can watch as your child experiments and learns through physical manipulation for many years to come. (Designed for children between 3 and 12 years old)
In short, your child is presented with limitless opportunities for play and learning for many years to come.

MULTI-SET 1
Spielgaben

 1

Spielgaben 1 is a collection of 6 soft, woolen balls with removable strings. Using the balls provides a child with the opportunity to discover and evaluate different types of movement. The wool is soft & easy to hold. The balls are the colour of the rainbow or the colour spectrum. Crossbeam, crossbar and pillars also included.

Learn more about Spielgaben 1 →
Spielgaben 3 – 6
After exploring objects in Spielgaben 1 and Spielgaben 2, you are now providing more complex tools such as cubes, cuboids, triangular prisms, semi-circular columns, concave parts and concentric rings to make shapes and teach the relationship between a whole and its parts. Your child will develop a strong understanding of how different geometric solids work together to create structures. The math discoveries that Spielgaben 3 – 6 encourages your child will amaze you.
Learn more about Spielgaben 3-6 →

MULTI-SET 2
Spielgaben 2
All new Spielgaben 2 contains 12 geometrical figures to help children to understand the core basics of mathematical figures & shapes.
Learn more about Spielgaben 2 →
Spielgaben 8
With the introduction of Spielgaben 8, we move from the plane to the line (sticks). These sticks come in 6 different lengths, which increase in size by increments of 2.5cm. Now, instead of being limited to a triangle with a certain angle, the child can build whatever angle he likes. Let the child explore the flat sides of the sticks and explore the concept of length. These sticks are excellent for teaching measurement. The accompanying guide is full of great ideas for introducing the sticks to your child. Your child will even learn how to use them to make a skeleton.
Spielgaben 8B
Spielgaben 8B is a new addition and it is colored vertex balls that will be used with Spielgaben 8 colored rods. Using both sets together, a child has an opportunity to learn how abstract ideas of shape, form and space composed of arbitrary lines and points can be realized in solid 3D form.
Learn more about Spielgaben 8 and 8b →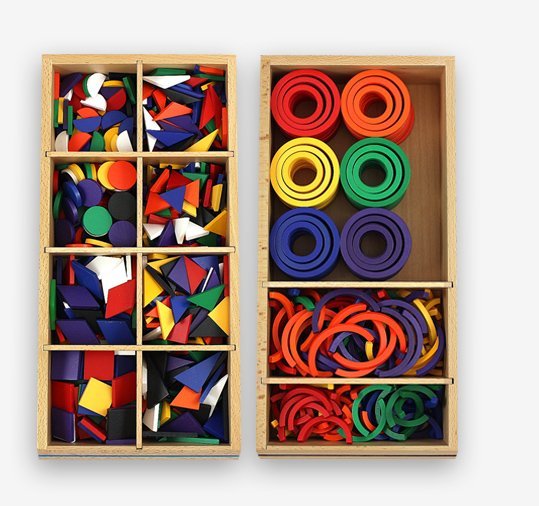 MULTI-SET 3
Spielgaben 7
Spielgaben 7 is made up of seven differently shaped tablets. You'll find colourful squares, equilateral triangles, right angle isosceles triangles, scalene triangles, obtuse isosceles triangles, circles, and half circles. Do you know the difference between an equilateral, isosceles, and scalene triangle? If you don't, it is probably because you memorized these terms in high school instead of learning about them through exploration as a young child. While playing with Spielgaben 7, your child will discover that all plane geometric figures can be made from triangles. Your child will learn problem solving and special rotation skills as well as relationship between 3D solids into 2D flat figures.
Learn more about Spielgaben 7 →
Spielgaben 9
Inside the Spielgaben 9 box, you will find a collection of rings and semi-rings. The rings come in multiple sizes, so you can choose from small, medium, or large rings in a variety of colours. Using this set, a child has the opportunity to explore full circles and semi circles. Until this point, most of the gifts have introduced straight lines. Children are delighted by the beautiful, complex patterns they can create with Spielgaben 9. By playing with straight and curved lines, you are able to allow your child to explore concepts found in both Euclidean and spherical geometry.
Learn more about Spielgaben 9 →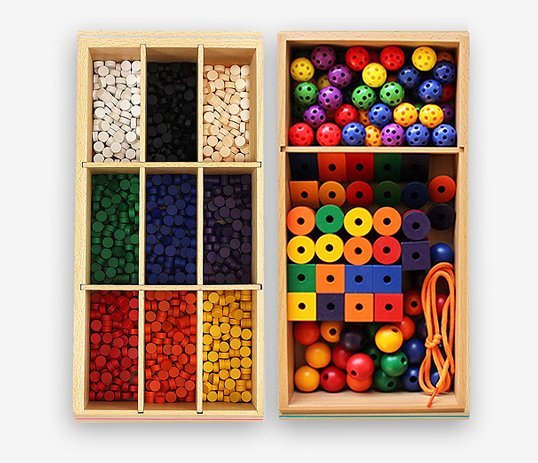 MULTI-SET 4
Spielgaben 10
Spielgaben 10 is the final set, and involves one of the most critical elements of geometry: the point. Spielgaben 10 makes the point tangible. It is real and solid. By placing the point between line segments, the child intuitively understands how a point allows a line to change direction. Use them as counting aids, to play sticks and peas, to create borders or to teach patterning and sequencing. You'll also find that the small size of the points strengthens eye-hand coordination and fine motor skills.
Learn more about Spielgaben 10 →
Spielgaben 2B
Spielgaben 2B is a modified version of 2. It contains four different types of solids: the cube, cylinder, sphere and diagonally cut cylinder in 6 different colours. Most of the solids in Spielgaben 2B have holes in the middle. The addition of colours and holes give your child even more possibilities for building. A cylinder can be rotated like a wheel. A cylinder with a hole in it allows you to introduce the concept of the axle.
Learn more about Spielgaben 2B →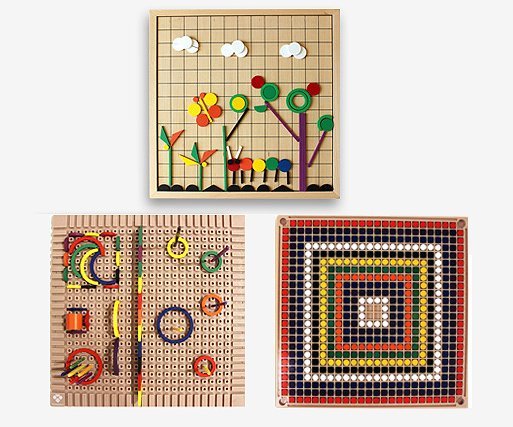 MULTI-SET 5
Playboard #1
Playboard #1 is original form of playboard. It is made of solid European Beech and each grid is 1″ square to provide a child the sense of distance and size. This playboard will provide a solid base for a child whatever he/she desires to create.
Playboard #2 (Dual Side)
Playboard #2 is dual side high quality plastic playboard that front-side lets children do pattern play with points and back-side lets children explore further with various sets such as thin colored tablets, sticks, rings and blocks. Possibility of play & learn is now limitless.
LEARNING RESOURCES
There are over 670 pages worth of learning activities and lessons in full colour hardcopy format so your child does not need to rely on digital devices.
1 set of Playguide, 1 set of Mathguide, 1 set of Workbook, 1 set of Inspiration Cards, 1 set of Nature Cards and more…
In short, your child is presented with limitless opportunities for play and learning for many years to come.
INTRODUCE YOUR CHILD TO A WORLD OF POSSIBILITIES, TODAY!