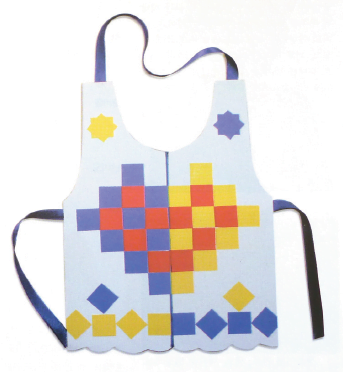 Distinctive characteristics:
– From the center, the left and right are exactly the same pattern when it is folded.
Things to prepare:
– Thick white A3 drawing paper, long length of ribbon, Scissors
Difficulty level: Intermediate
STEPS
1. Cut a white A3 sheet of paper into the shape of a pretty apron.

2. Draw a vertical line down the middle of the apron.

3. Make the right side yours and left side the child's.
Cut coloured paper and put it on the apron in turns, using the right side as yours and the left side as the child's, matching them up.

4. Use ribbon for the neck and waist. It is now complete.

That's it. Your child will love to wear it and stand next to you to help washing dishes or even cooking meals.
Not only this is fun craft but also help your child start recognising different patterns.
Hope you and your child have great time together.