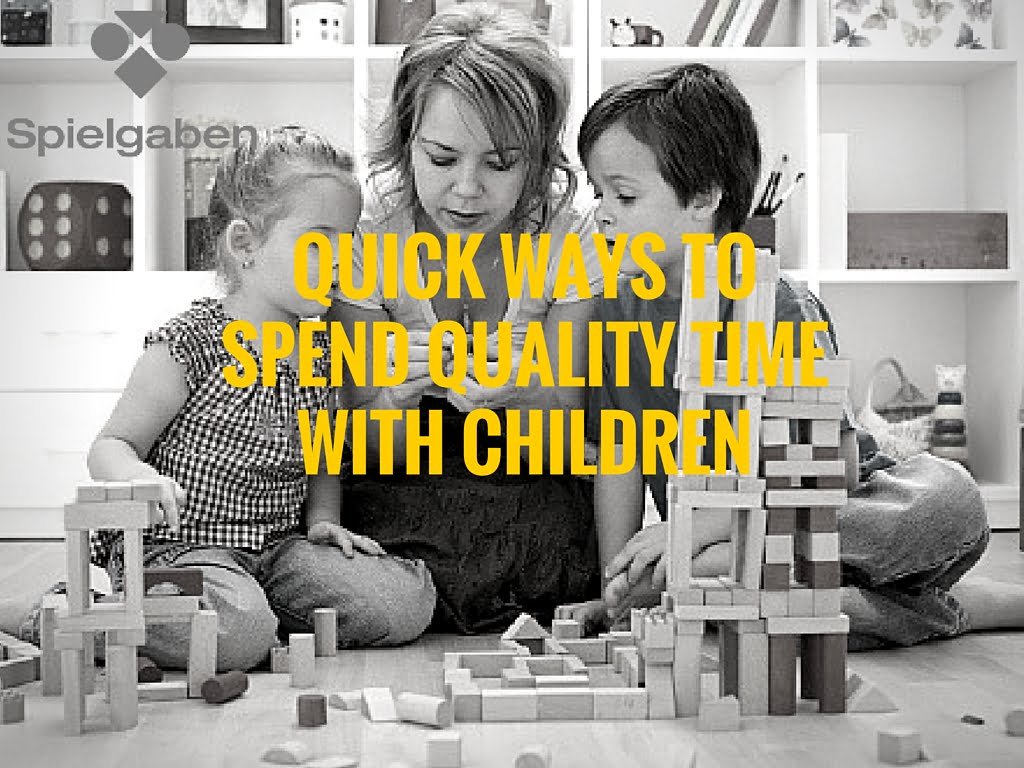 We live in a society where parents are time poor, with so many things demanding their attention like phone calls, emails, chores, work and much more. It is becoming increasingly more difficult to make sure that we spend quality time with children , but it is extremely important that we do. Here we're going to take a look at quick ways to spend quality time with children , so that you can fit everything into your day and remove the guilt that goes along with not spending enough family time together. 
Spending quality time with children is essential to your bond as a family as well as the healthy development of your child.  Remember that they are only kids once; we don't want to have to go back in time and regret the fact that we didn't take the time to dedicate to our kids. 
Dr. Anthony P. Witham once said "Children spell love…T-I-M-E." He was certainly right. Here we're looking at quality over quantity, and you need to be able to slip in some memorable moments that are essential to your happiness and your child's happiness too. 
Suggestions on Quick Ways to Spend Quality Time with Children
 So let's take a look at quick ways to spend quality time with children that will build strong bonds and won't take up all of your time. Believe it or not, it can be done in the most ingenious of ways! 
The first step in spending quality time with your kids is to make a commitment to it. For example, schedule time in your diary to spend with your kids and let them know you've done this. For example go and see a movie every 2 weeks or once a month or enjoy activities together that you both enjoy. 
One of the best and quick ways to spend quality time with your children is to make it a part of your daily routine. This could be anything…take them shopping with you and make it fun, make cleaning the house a great activity to do together and even get your little helpers to prepare dinner. Sorted! 
1. Show the Love
If you're really struggling to find time, why not show them you care in other subtle ways too like writing them little notes in their lunch boxes. Kids love this and one mum spoke to hundreds of kids and they told her that they felt really loved and cared for from this small but highly effective way of showing how much you love and care for them. This is one of the easiest quick ways to spend quality time with your children. 
2. Make a Video
Get creative. Why not make a video for them talking about how much you love them. You can even add music and images quickly and easily on a programme like slide.ly. Leave it out for them to watch on your phone, tablet or iPad on the breakfast table for them to watch and enjoy. It won't take you long to create a special love message on video and you'll be amazed at the powerful impact this idea has. 
3. Make a Date
When you're going to spend some quality time with your children, then you can literally set a break time and use a timer. Tell your children that you're going to spend 20 minutes with them. This is extremely effective and is perfect for quick ways to spend quality time with children. If you do this they know they're getting your undivided attention and you can do whatever they love. Let them lead the way. Be silly, have fun and dedicate yourself to this time every day. It should always be on your to-do-list and you can schedule your day around it. It could be just before bedtime, before dinner time or any other time that fits in with your schedule. Another interesting idea is to make sure that each month on the date of their birthday, for example they were born on the 7th of the month, make that their special day with you. Make it a family tradition and do something special together, even if it's chasing each other around the furniture giving hugs and kisses!
4. Take Pyjama Walks
This is a really great idea, and is also perfect for quick ways to spend quality time with children, as the hour before bedtime with young kids can be chaotic. In order to help them calm down and spend quality time with them, why don't you take a pyjama walk? They'll be all bathed and ready to go and you can have a nice, relaxing walk outdoors to chill out, relax and reconnect. The key here is to make sure that they're completely ready for bed…teeth brushed, showered or bathed and those cute pj's are on. This is a better technique than them being lost in front of the TV while you charge around. You'll all enjoy the quiet and calm and your kids will probably go to bed like a dream. Don't make it an energised walk; keep it cool, calm and collected.  
5. Fix It Together 
This is a winner of an idea! When there's DIY stuff that needs to done around the house like painting fences, fixing leaky faucets or anything else, enlist your kids to be your trusted sidekick. This is one of the best and quick ways to spend quality time with children while teaching them a few things along the way too. Give them their own tools of the trade and let them help, they will love it and feel important at the same time.
6. Play Their Games
Always make time to 'play' with your kids. The most important thing to remember here is to play with what they're interested in. If they love dolls or Lego, then that's what it should be. Get down on their level and play together. Manipulative toys like the Spielgaben for example are great toys to include in your playtime as you learn and create at the same time while having loads of fun.
Get them to pick what they want to play and have some awesome fun. Experts recommend that all you need to commit to is 20 minutes a day of play, so by playing with them on their level you're creating perfect moments of quick ways to spend time with children.
7. Unplug
This goes for kids and parents alike. Unplug those video games, phones and all other electronics and just 'be'. Whether you just 'hang out' together outside or inside, or talk to each other, keep those electronics off and have real conversations. You'll learn a lot more about their world and build stronger connections. 
8. Stolen Moments
Not every quality moment with your child needs to be planned; it can be the stolen moments that can be just as amazing. When considering quick ways to spend time with children, these moments are amazing. You could read a book just before bedtime, play I-Spy in the car or any other games or even talking to each other in the car grabbing the moment, even sing out loud together or you could even play a game while waiting in a queue somewhere.
How about after picking the kids up from school, you head to the park for an impromptu picnic with packed lunches and some great bonding time. It will be just you and your kids, with no other distractions. They will love this and you will too. It doesn't matter where you go, just pick a spot and enjoy the quality time together.
Use any stolen moments that you can find and you'll find new and exciting ways to connect with your kids in no time at all.  
These moments are some of the most precious so don't forget to snap them up when they arrive.
9. Tackle the 'To-Do-List' Together
Got too much to do…washing, ironing, working, cleaning, cooking and more? Well, why not tackle that seemingly insurmountable to-do-list with your kids and get them in on the action. If you need to go grocery shopping, then make a game out of it and include them. Talk to them about it and decide what they're going to be responsible for. Will they pick out the goods on the list, add up the costs of the groceries or choose a few ingredients for something they want to make. The opportunities are endless. 
But it's not just about shopping; get them in on doing the laundry. As they build up all these new skills they'll be your happy helpers and will willingly help and their self-esteem will soar. Give them certain jobs that are age-appropriate and they'll be helping in a flash. Let them help you cook, clean, vacuum, mop or help with whatever other tasks you've got on that list. Thank them and praise them. This is certainly top of the list when it comes to quick ways to spend quality time with your children 
10. Just Say "Yes"
If you're busy running around and your kids ask you to do something with them, we will often say no, as there is so much to be done, telling them we don't have time. If this is a constant they'll stop asking for your time. Instead of just saying no, try saying yes if you do have the time, or stop what you're doing and explain to them why you don't have time right now, but schedule time in with them later for an exciting activity. Sometimes instead of saying "In five minutes," try saying, "For five minutes." You will be amazed at the difference. Quick solve! 
11. Eat Together
Where possible this should be the mainstay of any family quality time, where the TV goes off and everyone sits down at the table and eats together, sharing their highs and lows of their days. Try and do this as often as you can, and don't beat yourself up if it's just not possible every night, but do try and make it a part of your routine. The key here is to make sure you turn off the TV and you focus solely on your family and your kids. You can put some music on, or just chat. Do whatever works for your family.
12. Child Date Night
You've no doubt heard about date nights with your partner, but why not try a date night with your child? You can do this every couple of weeks and it doesn't have to be an expensive affair. It can be as simple as going out for a quick meal, catching a movie together, watching a movie at home with popcorn or head outside and do something together like creating a camp fire and toasting marshmallows. You can really get creative here too. Perhaps get your child to think of some ideas of what they want to do on date night. Again, make sure you're fully present and aren't sticking your head in your phone the whole time. Shut down and put it away. If you've got more than one child then make a date night with each of them as often as time allows. 
13. Bedtime, Glorious Bedtime
Even though you might feel frazzled and burnt out by the end of the day, one of the best moments to bond with your child is at bedtime. It can be your special time with each of your children. How you decide to do this is up to you. You could make sure that you sit down and talk to each other before bedtime, read to them, give them a massage, snuggle up together or even tell them stories about themselves when they were smaller and what you did together. As you implement a special bedtime routine, you will never regret it and you'll probably find that this is one of the most special times of your day.
As we said earlier, quality time is essential for building healthy bonds with your children, and they don't have to take up loads of your time. Simple moments can turn into simple pleasures that you will all remember fondly. We all want the best for our children, and spending quality time with them is essential. 
These are our top picks of quick ways to spend quality time with children . Do you have any other ideas to share with us?