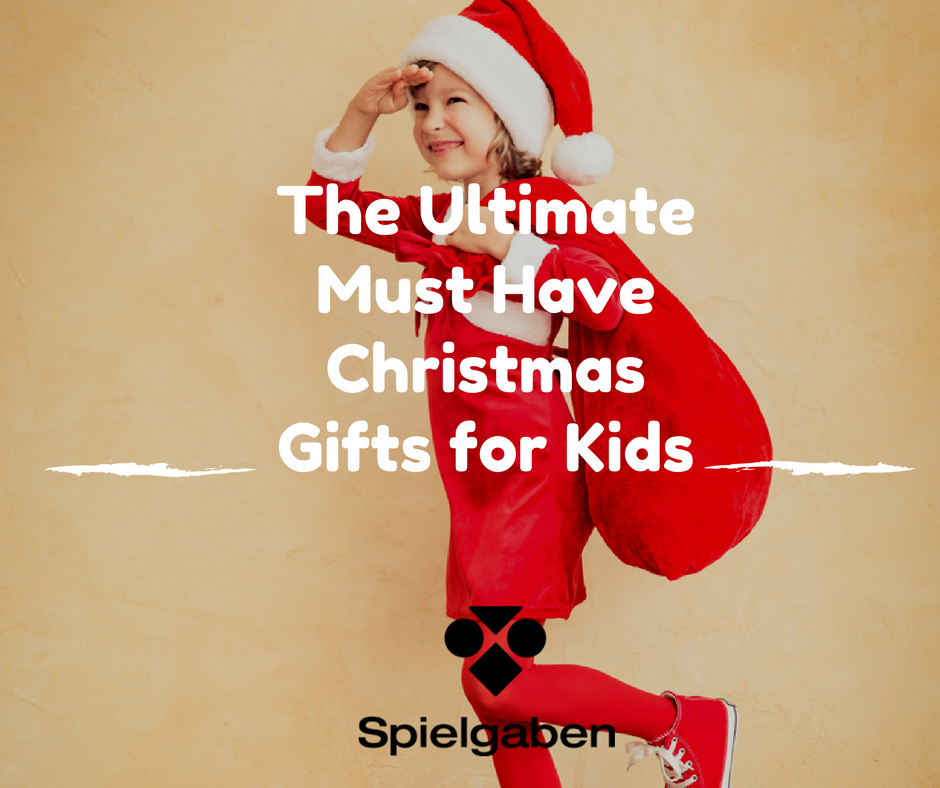 Christmas is just around the corner and with this in mind we've rounded up some of the best educational toys out there. These toys are so awesome your kids won't even know that they're learning!
Disclaimer: YES, we are completely biased that our product Spielgaben would be one of the best gifts you could give your kids, so that's why we've included it in this list. However, we have no affiliations with any of the other toy brands that we've mentioned. We've researched and come up with what we think are the ultimate gifts for your kids this Christmas!
Colorku is just like Sudoku but with coloured marbles instead of numbers. It's a fantastic game for logic and problem solving.
It's a colourful spin on Japanese logic puzzles; this wooden board uses wooden marbles in nine great colours instead of numbers to solve each game.
Start the game by placing the marbles on the board as shown by one of the 104 puzzle cards. Solve the puzzle by placing one (and only one!) of each colour marble in each of the nine rows, columns, and three-by-three squares. Strategy is the name of the game. There's only one correct solution to each puzzle and will keep those little minds ticking.
Draw, doodle, and write in this very cool, slightly gross, totally awesome diary. Writing practice makes for better writers and readers.
DUDE Diary versions 1 and 2 just weren't enough for non-diary keeping dudes everywhere. So DUDE Diary is back by popular demand and 3.0 is oozing at the seams with more of the awesome and absurd. As always, this epic non-diary can be kept safe behind lock and key and KEEP OUT tape.
This is just the cutest cottage you'll find out there. It's got four doors, each with their own unique lock, matching keys, and a special doorbell sound. It's a solidly build wooden house that includes four play people included. Another bonus is that the keys are attached to the house so they won't get lost. It's also got a sturdy handle so can go wherever the kids go!
It's great for visual-spacial skills and problem solving.
This is without a doubt some of the most awesome putty you'll find out there. It's available in thermochromics, magnetic, and glow-in-the-dark. It is brilliant at improving children's fine motor skills and great for creative thinking skills.
The Kiwi Crate is phenomenal and you pay a monthly fee for a crate to be delivered to you. They are by far the best crafty crates on the market with easy to follow directions and kid-enticing activities. They are great for following directions, creativity, and science (in some cases.) This will make the perfect gift for your little ones!
This is an exciting balance game for 1 to 4 players so the whole family can get involved. It includes 24 game rods, wooden base, 4 frame rods, coloured die and wooden connector. It's both exciting to play alone and in a group and the kids won't know that they're learning by doing. It develops hand-eye coordination, cognitive skills as well as interpersonal skills.
This is an absolute winner for any young fashionistas out there. This kit helps them use tape to create clothes.
This is a Project Runway® inspired fashion design kit that makes it super easy to create catwalk-worthy clothes for any 12-inch-tall doll "model." Just choose a favourite pattern, cut it out, and cover with trendy Tapeffiti decorative tapes.
The kit includes dress form, five dress form displays, 24 rolls of Tapeffiti and four dispensers, clothing pattern sheets to make more than 15 outfits, clear tape, stickers, and instructions.
Kids can choose a pattern, cut it out and cover it with trendy Tapeffiti decorative tapes.
It's great for imagination plus math and visual-spacial skills make this a great creative learning product.
If you have a young builder in your midst, then this is the perfect toy for them. This is a car that uses rubber band propulsion which really works! Kids will learn how to follow directions, problem solve, and get involved in a bit of engineering too. 
Talk about learning and fun mixed together! This is everything you need to start geocaching – which is like a huge outdoor treasure hunt using a GPS. Kids will learn orienteering, geography and much more. It's ready to go right out of the box and includes a splash-proof GPS unit, geocache container, prizes and a guidebook too. It is preloaded with 250,000 geocaches in the U.S. and also provides hints and tips about cache size, location, difficulty and terrain.
If you want to invest in your child's future, then Spielgaben is just the thing for you. Educational toys just don't get any better than this. The Spielgaben set comes with just about everything you could ever want to teach your budding learner and is suitable from the ages of 3 up until 12, so is a great investment. The learning sets help with cognitive development and learning as well as many other skills.
The learning opportunities are endless and include the following:
Math skills that are applied in the real world

Effective communication skills through learning to read and write

Other areas of development include History, Geography, Music, Science and Social Studies that are all approached in a fun and unique way.

It comes with a digital library of guides that are age-appropriate and will lead your child on a journey of unbelievable learning.
So there are our top 10 choices for the best educational Christmas gifts out there. What's on your shopping list this year for your kids?