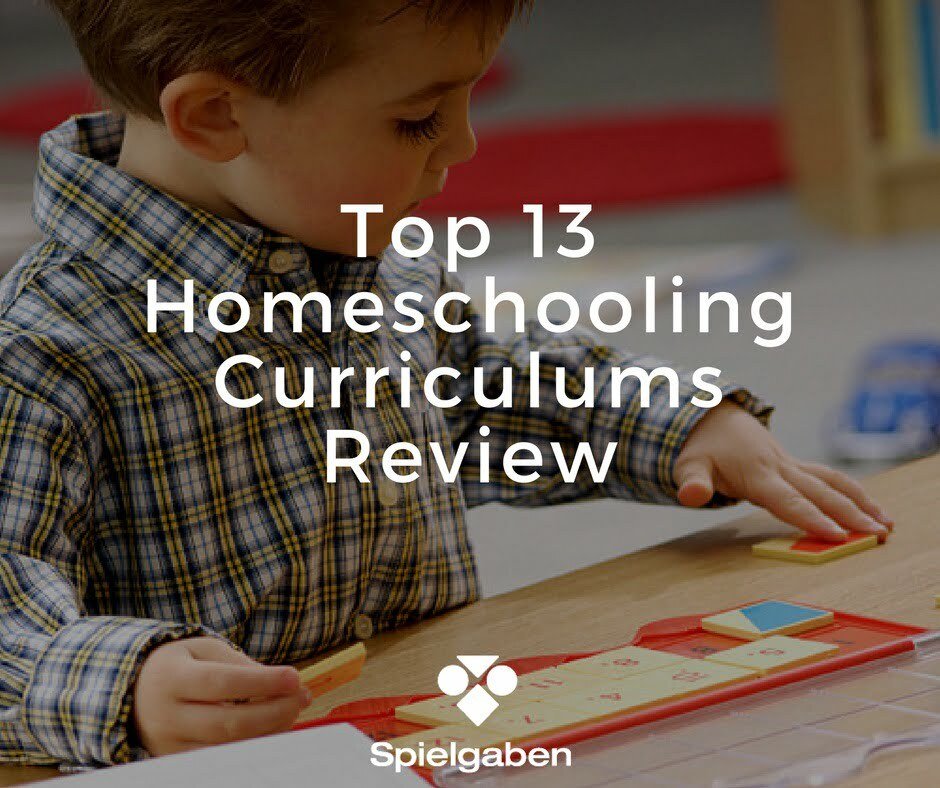 Homeschooling can be tough, especially if you happen to choose the wrong curriculum that doesn't suit your child, or doesn't meet your needs either as a parent. In order to help you make a decision we take a look at the top homeschooling curriculums in the US and review each of them to help you make an informed choice. It's also a good idea to have manipulative toys to help you on your teaching journey as kids learn best through play.
Disclaimer: We are not affiliated to any of below curriculums in any way, and this report is done by our own research and it is our honest opinion.
Christian Based Curriculums

A Beka Book
This curriculum ensures that your child masters each subject matter with support and guidance to help you as a parent to feel confident in teaching. A Beka Book has been around for over 40 years and they provide a comprehensive curriculum that is specifically created for homeschooling families. It comes with complete lesson plans from grades preschool to 12 with plenty of online resources to help you along your journey. Each lesson builds on the concepts learnt in previous lessons and encourages reviewing work to ensure your child has retained the information.
It is based on a Christian curriculum and is known for its success, having been one of the top homeschool packages that have been used by thousands of families. The curriculum is highly engaging, easy to use and has proven materials that will stimulate your child's mind. The curriculum comes with easy-to-follow lesson plans as well as free online resources that are always available at your disposal.

Alpha Omega Publications
AOP Homeschooling is an award-winning Christian based homeschooling programme for grades K to 12 where you can choose from various programmes that you believe will best fit your particular needs for example a traditional book curriculum, interactive computer curriculum, foreign language, distance learning and more. They provide individualised learning plans for each student. They also offer full grading and record-keeping services as well as access to qualified teachers to help you on your homeschooling adventure. They also offer live teacher support when you need it.
They offer the following homeschool packages that you can choose from:
Monarch – a Christian based online homeschool curriculum for grades 3 to 12 and is compatible with most web browsers

Switched on Schoolhouse – a comprehensive, Christian home school curriculum that offers computer-based learning for grades 3-12 with animation, video clips, and fascinating multimedia. Comes in a CD Rom format.

LIFEPAC – a Christian home school curriculum for grades K-12 designed by a team of accomplished educators. LIFEPAC is the principle of comprehension, helping kids to master content before progressing to the next level.

Horizons – this is also a Christian based curriculum that is teacher led and is in the format of brightly coloured engaging workbooks with great lessons and hands-on activities that uses a spiral learning method to help kids master core concepts. It is for grades PreK to 12.

Weaver – this is a unique Christian based curriculum for homeschool grades PreK to 12. It is a unit-based curriculum that uses the same Bible theme as a foundation and then creates lessons for each student.
This is a great option for Christian families looking for an engaging homeschooling curriculum that is innovative and trusted by many.
Online Based Curriculums 

Time for Learning
Time for Learning is another award-winning homeschool curriculum for preschool through to grade 12. It includes access to an entire year's worth of multimedia lesson, parent tools and teacher resources. Everything is based on an automated system which grades lessons, tracks progress and keeps reports for homeschool portfolios. It is an extremely well-priced product in the market with no contracts and you can start and stop at any time you want to.
It combines education with interactive fun. There are animated lessons, interactive activities, printable worksheets and detailed reporting that make the learning system a top selection of the Homeschool.com "Top 100 Educational Websites" list, year after year. Over 400,000 families are using this engaging homeschooling package.

Oak Meadow
Oak Meadow is the proud owner of many awards for their online homeschooling curriculum. They focus on using imaginative, child-centred methods with a strong emphasis on the creative arts: drawing, painting, music, and handwork.
They have rigorous academic standardsthat have creative and artistic assignments to encourage balanced development and a true flexibility of thinking.

Lessons are integrated across subject areasto encourage engagement in a more meaningful and memorable way.

Assignments designed to accommodatevisual, auditory, and physical learning styles.

Weekly lesson plansallow flexibility for travel, athletic or artistic pursuits.

A choice of assignmentsto encourage students to become involved with the material and relate it to their own lives.
The curriculum offers an affordable independent school experience for children in kindergarten to grade 12. They design a progressive, experiential homeschooling curriculum that families can use independently or by enrolling in their fully-accredited, teacher-supported distance learning school. You create your own rhythms for learning, and integrate your child's education into your family's lifestyle.
They curriculum is built on strong academic standards that can be adapted to meet the needs of the developing individual. They pride themselves on the fact that they understand that students learn in different ways—some by doing, others by listening, still others by seeing or reading. The curriculum is print-based to reinforce solid reading comprehension and study skills, and technology is integrated through the grade levels.

The Critical Thinking Company
The Critical Thinking Company have been in operation for more than 50 years with award-winning products that help students of all abilities to achieve better grades and higher test scores. Their lessons are highly effective and they claim that they 'sharpen the mind' as they teach standards-based reading, writing, mathematics, science and history. Their products are fun, easy to use and they guarantee that your kids will achieve better grades and higher test scores.
They design critical thinking into their reading, writing, math, science, and history lessons so students carefully analyse what they are learning. Deeper analysis produces deeper understanding, which results in better grades and higher test scores. Over time, students who practice critical thinking learn to apply it throughout their education and lives.
"If we teach children everything we know, their knowledge is limited to ours. If we teach children to think, their knowledge is limitless." – Michael Baker, President

Homeschool Learning Network
With the Homeschool Learning Network you have access to a structured Curriculum for grades K through 12, which includes a 36 week programme which corresponds to the 180-day school year.  Each week, you will find listed topics and resources to learn about specific subjects throughout the school year.  It is up to you to cover, complete, and grade the material available to you.
At this stage they don't have an internal grading system so they suggest using their blog feature in your Profile to track your child's work, or to use your own system – whichever works best for you. They believe that parents are the best evaluators of their children's work, and this is what helps them to keep costs affordable for homeschooling families.

Calvert Education
Calvert Education has been around since 1906 and has educated hundreds of thousands of students around the world with their flexible and comprehensive PreK to grade 12 homeschooling programmes and courses.
Calvert claim to provide a proven, time-tested homeschool curriculum as well as individual courses with all the tools and support you could ever need to ensure your child's success. You can expect to receive step-by-step lesson manuals, unlimited support from their highly trained education counsellors as well as access to their Calvert Teaching Navigator. This is an easy-to-use online resource which makes homeschooling much easier and more flexible.

Home Learning Institute
The Home Learning Institute prides themselves on providing an affordable and high-quality online curriculum for students and families across the world. Homeschoolers now have access to an award-winning and comprehensive online curriculum that you could only previously find in public and private schools. As they buy curriculums online they can save you thousands in tuition fees per year.
They have a Digital E-Text Package where you can download student and teacher manuals in all four core subjects including Language Arts, Maths, Science and Social Studies for PreK to grade 12. Each lesson is planned out perfectly for you so you know exactly what to do.

International Virtual Learning Academy
The International Virtual Learning Academy provides online courses for all grades from PreK to grade 12 and the entire curriculum is delivered online. Students work at their own pace, but lessons should be delivered to IVLA about once or twice a week to be evaluated. Your child can go as fast or as slowly as they need and will then move to the next grade when they are ready and have completed the course. As a parent you don't need to be a teacher in order to help your child but you will need to know some basic knowledge to help them succeed. With IVLA you also have access to a teacher and a mentor at one low cost.

NFC Academy
NFC Academy offers a fully accredited homeschool online programme for grades 3 to 12 where all work is available on their computer. The programme is a College Preparatory Programme and aims to prepare each student for their journey through school. In grades K to 2 children are homeschooled and from grades 3 to 7 you can elect to be the teacher at home or have experienced NFC Academy teachers teach your child. The choice is yours.

Acellus Academy
Acellus Academy offers a completely online homeschooling programme for grades K to 12 and has helped thousands of families achieve success. Children watch video lesson by some of America's best teachers.
Acellus uses the power of technology to tailor the learning experience for every student based upon their individual needs. 1 million students have used the programme in over 2,000 districts in the US.
They were established in 2013 as they recognised the need for children to receive an education outside of the normal schooling environment. They also have grown internationally and the curriculum is used in over 40 countries worldwide.

Bridgeway Academy
Bridgeway Academy is unique in the fact that they tailor the homeschooling curriculum to specifically suit your child by doing a thorough assessment, so that you get the best out of their product. They have curriculums for PreK to grade 12. They have two different packages that you can choose from that best fits your needs: the Customized Package and the Total Care package.
The Customized Package includes a thorough evaluation of your child's academic abilities and learning style, Maths, Language Arts and Reading academic placement tests, a Bridgeway Advisor which helps you to take the right approach and curriculum for your child, an individualised curriculum plan and description of the best teaching approach for your child as well as five full-year homeschool courses with teacher's guides and answer keys.
The Total Care Package includes just about everything you could ever want! It includes a completely customised curriculum package that is tailored to your child, flexibility in education that you won't find anywhere else that works around your schedule, unlimited support from their expert homeschool advisors that take you every step of the way. They also offer community service activities and opportunities to help you feel more connected. This package also includes exclusive homeschool instructor guides.
They were founded in 1989 and more than 20,000 students have used their curriculum.
Traditional Homeschool Curriculum

Moving Beyond the Page
Moving Beyond the Page is a complete homeschool curriculum. Their ethos is that children will grow a love of learning through their literature-based curriculum that encourages critical and creative thinking, provides challenging and engaging projects and they support different learning styles.
They believe that all children can benefit from their unique approach to education. This is especially true for hands-on, creative, and gifted learners. A traditional or classical approach will often leave these children bored and uninspired.
They also use research-based educational strategies to help your children see connections between subjects using their unit studies that include science, social studies, and language arts from PreK through to middle school. They will become problem solvers and innovators through activities that require your children to think critically and creatively. They also encourage real-world applications with project based instruction. They also pride themselves on supporting different learning styles and levels of intelligence.
They cover state and national standards for each grade.
We hope that this guide will help you to make a choice when it comes to choosing a homeschool curriculum for your family. Do you think we've left any out? If so we would love to hear from you.