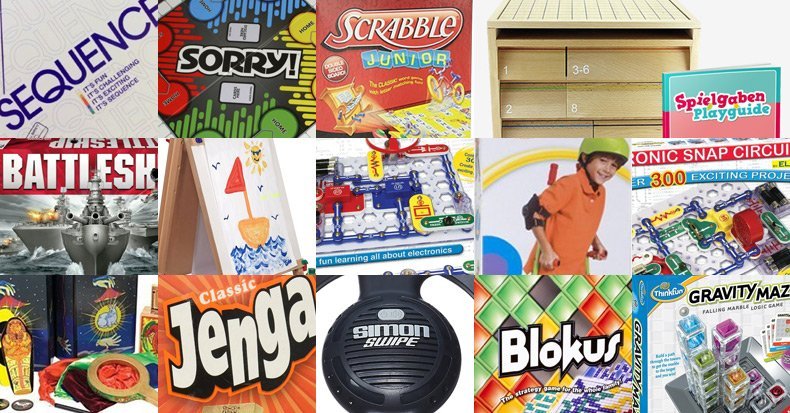 This is a guest contribution by Lisa Steyn, a family & parenting writer, editor and blogger.
We live in a digital age, and there's no getting round it, it's part of life, but kids are spending way too much time engaged in screen time. I've rounded up some of the best learning games for kids that will get those brains ticking over, as they learn new skills, and you'll have heaps of fun as a family. So it's a 2-in-1 bonus to keep everyone in the family happy and entertained.
So, with that in mind, I've found 14 of the best offline learning games for kids! Take a look at what I've got, get them in your house and get ready for some cool fun and some cool learning at the same time. Who knows, you could learn a few things too!
Best Offline Learning Games for Kids
Sequence is an award winning game that is an awesome game of strategy that kids from 7 and up can play, and you'll all have a blast. It's easy enough for kids and certainly challenging enough for us adults.
What will they learn?
It will develop their memory, matching as well as visual skills and help them to understand the importance of sequencing, which is great for reading, comprehension and writing too.
What's the game all about?
This awesome strategy game is all about forming rows of five chips on the board spaces that are the same as the cards played from your hand. You have to get them there before your opponent's do. So those imaginations and strategies will be running around in your heads to beat your opponent's.
Here's another one of those awesome learning games for kids that will get you all hyped up and excited. It's best for kids from the age of 5 and over.
What will they learn?
This game is all about counting and good sportsmanship which is always a bonus for our kids to learn.
What's it all about?
You have to move your pieces around the board until you get them all nice and safely home. But there's a catch, your opponent can bump you or even make you switch places. Keep those brains sharp!
A quick tip for you. This game can take a while to finish, so if you want to make it a bit shorter, then try and use two pawns per player as opposed to the usual 4. This will speed it along if you're got an impatient little person playing with you!
This learning game for kids is best for ages 5 and up and will get those little brains thinking overtime, working that grey matter.
What will they learn?
Here it's all about learning spelling, reading and how to follow rules…always a great lesson to teach our kids.
What's it all about?
Players take turns by placing tiles on the letters and then earn points for completing words. For those who are still budding readers the words are already spelt out and include picture clues. For the older kids, just flip the board over and you'll have a blank grid to play on. Sorted!
What's great about this game for prereaders is that they'll have fun matching the letter tiles to the boards, as they'll be learning their ABCs without feeling like they're being drilled.
If you're looking for the ultimate in learning games for kids, then you're found it. Spielgaben is without a doubt one of the most advanced learning games for kids out there, which will last for years and years to come. It comes with so much that the learning opportunities are endless, and of course the fun never stops too.
What will they learn?
Well, a lot including learning maths by manipulating different materials. They'll learn all about patterning, sorting, counting, geometry, addition and subtraction, multiplication, division and fractions too. But amazingly there's more. It also encourages young readers and writers by working with letters, helping them to create words and express what they actually read with the product.  It can be used for a number of different learning subjects including science, social studies, history, geography and music. This one's a winner.
What's it all about?
Well for the neat freaks around there, this amazing playground heaven comes in a high quality wooden storage drawer. Within it there are individual drawers, which contain various elements of the endless games like play boards, thin coloured tablets, sticks, rings and blocks. There are geometrical figures like cones, pyramids and columns as well as coloured vertex balls and rods to help your kids understand the basics of maths as they need to memorise rules and formulas through hands-on play. In all honesty, the learning and play possibilities with this unique learning game are absolutely endless, and when it comes for time to pack away, it all stores nice and neatly inside the wooden storage drawers. Learning done!
An oldie but still a goodie which is best suited for kids aged 7 years and up. This is so much fun and your kids will be begging to play it constantly! Hey, that's better than being online!
What will they learn?
A good dose of maths, persistence and fair play.
What's it all about?
You and your partner in battle will hide ships of different sizes on a grid and then take turns at 'shooting' at each other's boats. The first to sink all the enemy's vessels wins. Remember that it is very tempting for a younger player to want to cheat, as no one else can see his board. Remind them to follow the rules as that's what playing learning games for kids is all about!
Battleship takes longer to play than preschool games, so make sure you set aside enough time. Sit down with your child and turn that cell phone off and pay attention. Some great bonding time and learning awaits you.
Turn your room into an artists' delight with this awesome wooden Melissa and Doug Deluxe Standing Easel. This is really for any age group and kids can express themselves through the awesome activity of art.
What will they learn?
The easel will teach fine motor skills and pencil grip for budding writers and also to use their imaginations and bring out that creativity and creative expression.
What's it all about?
It's a playground of creativity where you child can create awesome masterpieces on either a dry erase board, a blackboard and there is also a locking paper roll holder to keep the memories alive. Get in there too and have a bit of creative fun. It's height adjustable, easy to put together with plastic trays to fit at the bottom for all the arty supplies. It also folds flat if you need the space.  It's sturdy with a great wooden frame.
Budding scientists will have an absolute ball playing with this physics science kit, made for kids 7 years and older.
It's an award winning product, having received awards from The National Parenting Center-Seal of Approval, Dr Toy 100 Best Children's Products, and Dr Toy Best Educational Products, so this is one cool kit to make learning fun and engaging.
What will they learn?
All these awesome electrical parts will give your kids hands-on-experience of designing and building models of working electrical circuits, perfect to bring out the crazy scientist within.
What's it all about?
There are super cool snap together parts and that means no tools are required, and it ensures that they always get the correct connections. Your kids can build over 100 different projects from models of a photo sensor, a flashing light and an adjustable volume siren. There are over 30 different snap together parts.
What a cool way to have some fun and get your kids to learn to balance with one of the best learning games for kids. This is for kids aged 5 years and older.
What will they learn?
Well of course they'll learn the fine art of learning to balance on stilts which is quite a mean feat in itself. It will get their muscles moving and build on their concentration levels.
What's it all about?
These stilts are designed to get your kids active, to learn how to balance properly and to improve their concentration skills. As they get better so the stilts can be adjusted to make it a bit harder for them.  You can replace the trainers with no-skid caps as they get better and better. They are fully adjustable so will grow with your child. Go on, give it a go too.
This is another award-winning physics set that is designed for kids aged 7 and up.
What will they learn?
Your child can learn about the electronics that power everyday devices with this cool kit that teaches how to create circuits and working devices. They learn how electronic circuits function.
What's it all about?
There are over 300 illustrated projects that your kids can create, which are easy to assemble for a fun, hands-on science extravaganza. There are over 60 snap together parts and they can craft all their own working devices like a radio, doorbell, burglar alarm and much more.
What kid doesn't like to learn a bit of magic and this one of the best learning games for kids out there? This is recommended for kids aged 8 and up. You might wonder what they'll learn by creating some magic, but you'll be surprised.
What will they learn?
This product will improve fine motor skills, concentration and teach your kids some strategic skills.
What's it all about?
As they go through the manual they will learn the tricks of the trade when it comes to magic, which are really easy to learn. They can amaze you with their magic powers and their friends too. Why not give this a go too and amaze your kids in return. It stores neatly in a great wooden box.
Jenga has been around for ages and is still a much loved toy and learning game that has stood the test of time. This is great fun for the family and can teach your kids so much.
What will they learn?
This is right up there for some strategy skills as well as building fine motor skills as they try and move those blocks out. They will also learn to concentrate long and hard to get it right and be victorious.
What's it all about?
The main objective of the game is to pull out blocks without crashing the stack to win. It takes nimble fingers and some careful thinking to get your way out of this maze. Each player takes a turn at trying to get a block out and place it at the top of the stack. You win by being the last person to remove a block without crashing the Jenga tower down. This is a game that you can play for hours with each game creating more fun along the way.
Do you remember the Simon Swipe game from your childhood? Well if you do you'll remember that this is definitely one of the best learning games for kids out there and for adults too! It is recommended for ages 7 and up.
What will they learn?
They will learn to use their memories to the maximum as you have to keep up and swipe the right combinations as the lights go on. As the game moves on so it gets more difficult. They will learn how to focus and memorise what's going on around them.
What's it all about?
The game has flashing lights that go off at different times, and your kids have to remember which order the lights went off in, and then push the same lights that went off. As we mentioned it gets harder and much quicker as they go along.  In this version there are 4 awesome games including the classic Simon game, with 16 levels. Now that will certainly test their mettle. You can either play it with 1 player or make it a party.
This is a super cool learning game that is best for ages 5 and up, and your kids won't even know they're learning as they enjoy this awesome game.
What will they learn?
This is all about geometry, spatial skills and a good dose of strategy thrown in too for good measure.
What's it all about?
The aim of the game is to place as many of your pieces as possible on the board, and each one must touch another piece of the same colour at the corners.
This is a blast, but it could take a few goes to get the hang of it. Stick in there and your kids will be learning soon without having a clue, as they have heaps of fun.
Bear in mind that this is a highly competitive game, so you need to model sportsmanship. If you lose, which you probably will before long – kids get good at this game in a hurry by the way, say something along the lines of "Congratulations, that was great fun and you deserved to win."
This is a super cool marble run game recommended for kids 8 and up. This is absolutely awesome and your kids will probably never want to stop playing.
What will they learn?
This is a game all about logic, special reasoning and planning skills.
What's it all about?
It is basically a falling marble logic game, which is a marble run and logic puzzle all in one. There are 60 challenges, which start from beginner to expert. Learning and fun all at the same time. Bonus! It includes a game grid, 60 challenge cards, 9 towers, 1 target piece and 3 marbles.
So there are my recommendations for the top 14 learning games for kids, which are not only educational but fun too. The whole family can get involved and learn for fun!